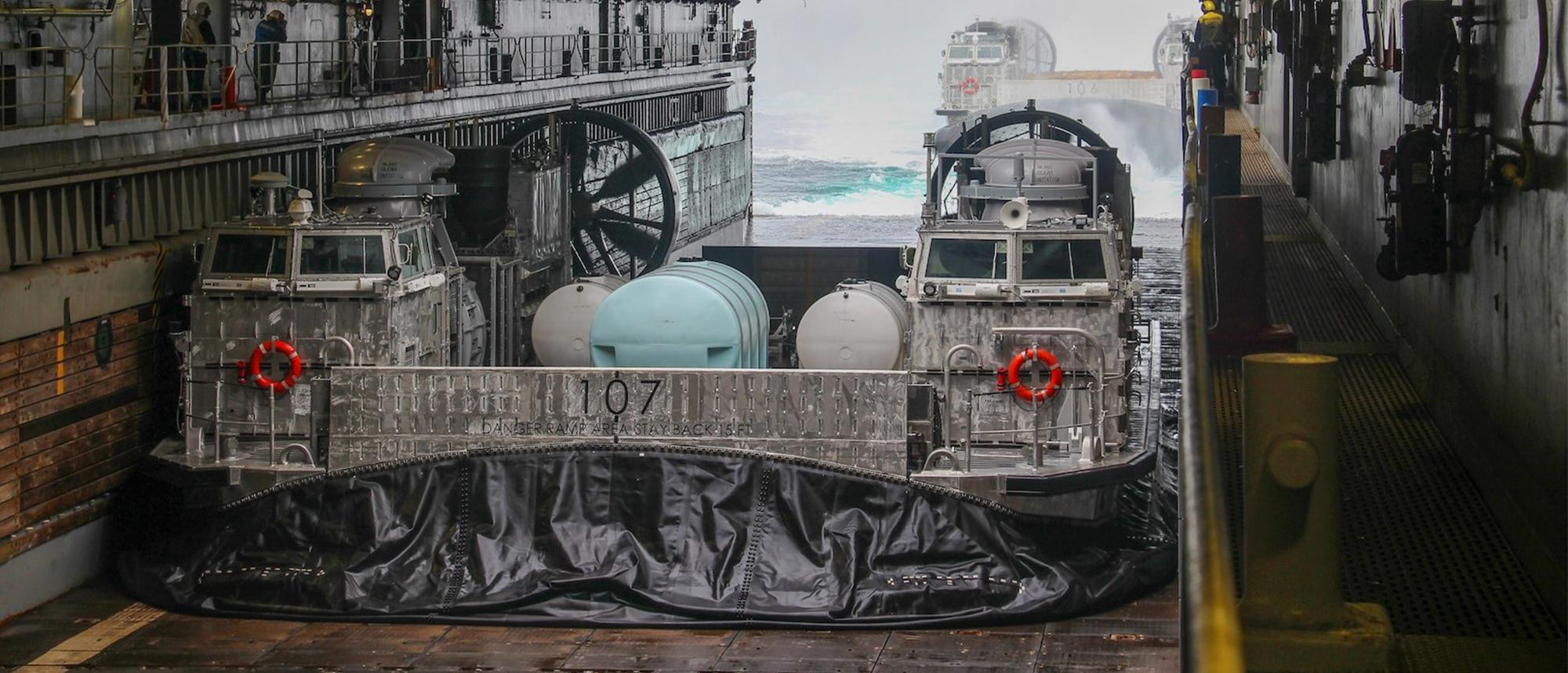 Ship-to-Shore-Connectors 105-107 Receive Lift of Opportunity Aboard USS Gunston Hall
Textron Systems' Ship-to-Shore Connectors (SSC) 105, 106 and 107 received a Lift of Opportunity (LOO) aboard USS Gunston Hall traveling from Naval Surface Warfare Center Panama City Division to Assault Craft Unit Four (ACU 4) in Little Creek, Virginia. This is the first Lift of Opportunity to simultaneously feature three SSCs as they transit to their new homeport. These craft will join SSCs 101-104, as one-for-one replacements for the Navy's legacy Landing Craft, Air Cushion (LCACs).
In total, the Navy plans to procure seventy-three SSCs, which are manufactured, developed, and tested at the Textron systems shipyard in New Orleans, LA. The SSC incorporates a number of system design updates that provide performance improvements while also increasing the reliability and maintainability of the craft which reduces life cycle costs. These highly versatile, state of the art craft, provide the Navy and Marine Corps with unparalleled logistics capability supporting both ship-to-shore and shore-to-shore operations in austere and contested maritime environments.
The SSC's ability to combine high-speed, heavy cargo transport over the water and on land make it the ideal platform to conduct logistics support for a wide range of efforts from humanitarian & disaster relief to full scale amphibious assault operations. Equipped with powerful, fuel-efficient engines and sporting a 74-ton payload capacity, the SSC provides advanced support to the U.S. Navy and Marine Corps to fulfill a broad spectrum of amphibious missions.
As we push past possible, Textron Systems proudly supports the U.S. Navy with our Ship to Shore Connectors. Click here to learn more about this craft.
The photo pictured above was taken by U.S. Navy.