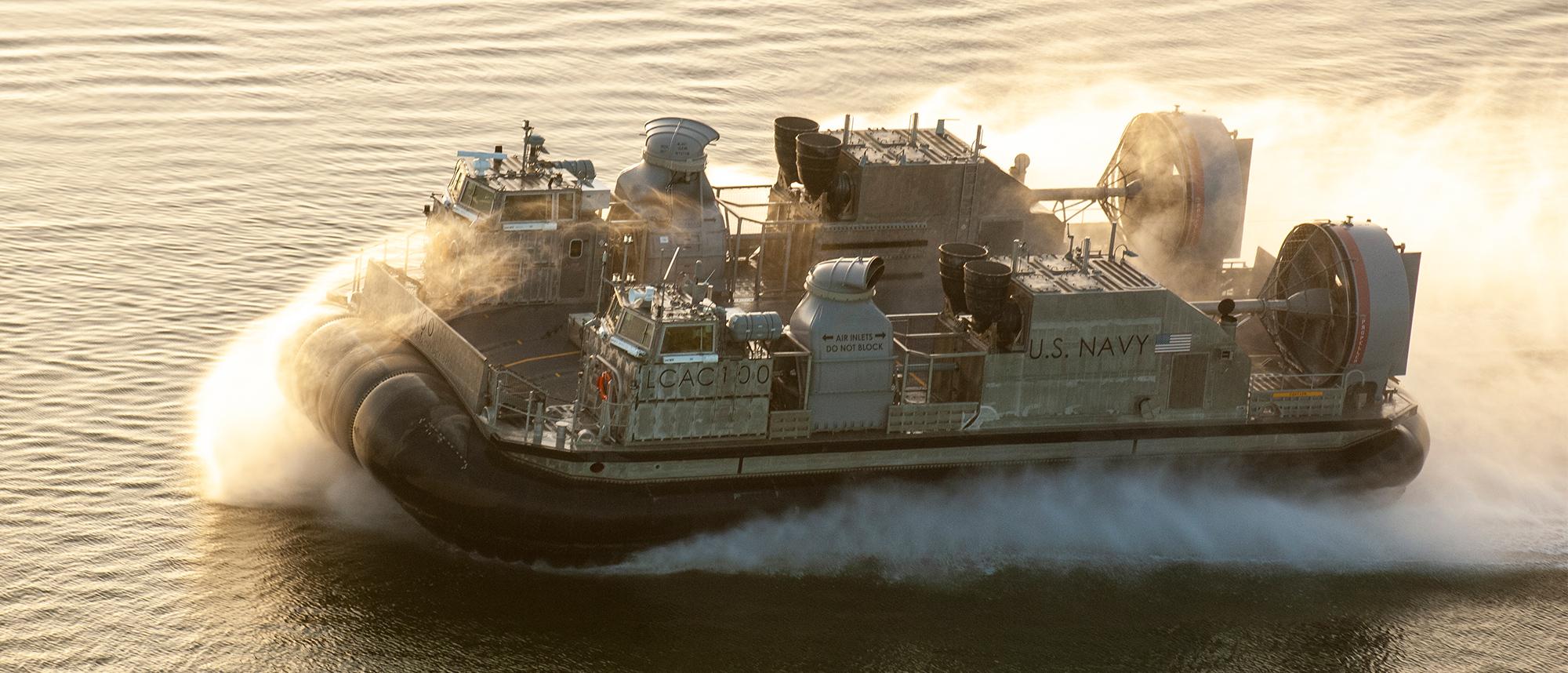 3 ways the Ship-to-Shore Connector can support your mission sets
Enabling the military to navigate the world's shorelines with ease, our Ship-to-Shore Connector (SSC) offers increased performance, reliability and maintainability while also meeting the U.S. Navy and Marine Corps' requirements for increased payload and transportability.
The SSC's capabilities allow the U.S. Navy and Marine Corps to successfully conduct high speed and heavy payload transportation in logistically contested environments. SSC is also the perfect platform to conduct humanitarian assistance/disaster relief (HA/DR) efforts in remote geographical areas that have been negatively impacted by natural disasters.
Ship-to-Shore Connector…
Transports equipment, vehicles and supplies
With the ability to hold a 74-ton payload and over 1,600 square feet of deck space, the SSC provides optimal room to transport supplies, vehicles—including up to four Advanced Reconnaissance Vehicles (ARVs)—and equipment to shorelines.
Enables delivery of essential items
Whether it be for wartime missions or humanitarian efforts, the SSC can be used to transport food, water, medical supplies and life-saving equipment to locations throughout the global maritime environment. The SSC allows U.S. naval forces to safely access remote and undeveloped shorelines during times of critical need when other methods of transportation are not feasible or available.
Transports passengers to and from shoreline
SSC can quickly transport Marines from sea to shore to perform advanced amphibious landings and maritime missions and return them safely back to sea. In times of humanitarian efforts and disaster relief, the SSC can be used to not only transport sailors and Marines to shorelines, but also transport people in need of aid away from compromised locations.
SSC Specs
The all-aluminum SSC is equipped with a four-person operating crew, four gas turbine engines, the ability to maintain a speed of 35 knots in sea state 3 and has a service life of 30 years. This craft is built from our legacy Landing Craft, Air Cushion (LCAC) technology and is transportable on a variety of U.S. Navy large deck amphibious ships, making it available to operate in a wide range of geographical areas worldwide.
In addition to the SSC, we have the world's most experienced air cushioned vehicle Field Service Representatives who are ready to deploy on a moment's notice to provide needed technical and maintenance support anywhere across the globe.
If you'd like to learn more about how our Ship-to-Shore Connector can enable you and your team to continue Pushing Past Possible, click here.