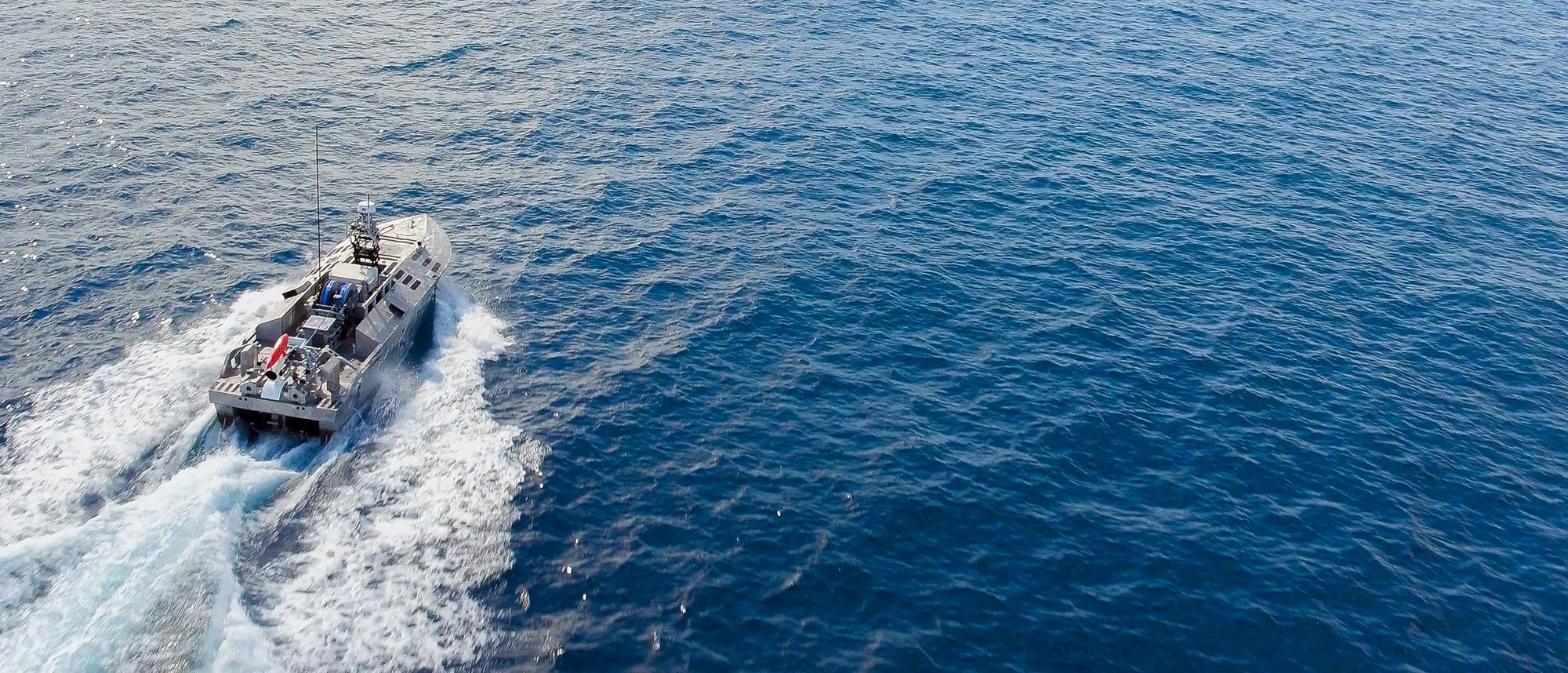 UISS Program Based on Textron Systems' Common Unmanned Surface Vehicle (CUSV®) Achieves Milestone C
Hunt Valley, Md. – Textron Systems Corporation, a Textron Inc. (NYSE: TXT) company, announced today that the U.S. Navy's Unmanned Influence Sweep System (UISS) Program, which is based on its Common Unmanned Surface Vehicle (CUSV), has achieved a Milestone C decision. The decision allows the program to enter low-rate initial production (LRIP), with the Navy planning to award three UISS systems to Textron Systems under their existing contract.
"The Textron and U.S. Navy teams have worked diligently to reach this Milestone C decision," said Wayne Prender, Senior Vice President, Applied Technologies & Advanced Programs. "We recognize the time on the water and dedication of the testing teams which enabled us to enter this phase of the program."  
UISS is the Navy's first unmanned surface vehicle (USV) program of record, designed for the demanding maritime environment. It provides unmanned mine counter measure and capabilities using interchangeable payloads and advanced sensors.
UISS completed Navy developmental test and operational assessment in November. The UISS is the first in the Navy's USV portfolio to reach this milestone. UISS is part of a comprehensive Mine Counter Measure Unmanned Surface Vehicle (MCM USV) mission and is designed to be deployed from the Littoral Combat Ship (LCS) and vessels of opportunity.   
Textron Systems is the prime contractor and system integrator for the UISS and MCM USV programs. The company designed CUSV as a multi-mission unmanned surface vehicle, capability of carrying multiple payloads including side-scan sonar, mine neutralization, non-lethal weapons, and intelligence, surveillance and reconnaissance (ISR) sensors.
Production will be completed at Textron's Hunt Valley, Md. and New Orleans locations.
About Textron Systems
Textron Systems is a world leader in unmanned air, surface and land products, services and support for aerospace and defense customers. Harnessing agility and a broad base of expertise, Textron Systems' innovative businesses design, manufacture, field and support comprehensive solutions that expand customer capabilities and deliver value. For more information, visit www.textronsystems.com.
About Textron Inc.
Textron Inc. is a multi-industry company that leverages its global network of aircraft, defense, industrial and finance businesses to provide customers with innovative solutions and services. Textron is known around the world for its powerful brands such as Bell, Cessna, Beechcraft, Hawker, Jacobsen, Kautex, Lycoming, E-Z-GO, Arctic Cat, Textron Systems, and TRU Simulation + Training. For more information, visit www.textron.com.
Certain statements in this press release are forward-looking statements which may project revenues or describe strategies, goals, outlook or other non-historical matters; these statements speak only as of the date on which they are made, and we undertake no obligation to update or revise any forward-looking statements. These statements are subject to known and unknown risks, uncertainties, and other factors that may cause our actual results to differ materially from those expressed or implied by such forward-looking statements, including, but not limited to, the efficacy of research and development investments to develop new products or unanticipated expenses in connection with the launching of significant new products or programs; our ability to keep pace with our competitors in the introduction of new products and upgrades with features and technologies desired by our customers; and risks related to U.S. Government contracts as described in our filings with the Securities and Exchange Commission.
MEDIA CONTACT
Textron Systems
Public Relations Team
publicrelations@textronsystems.com
978-657-2020