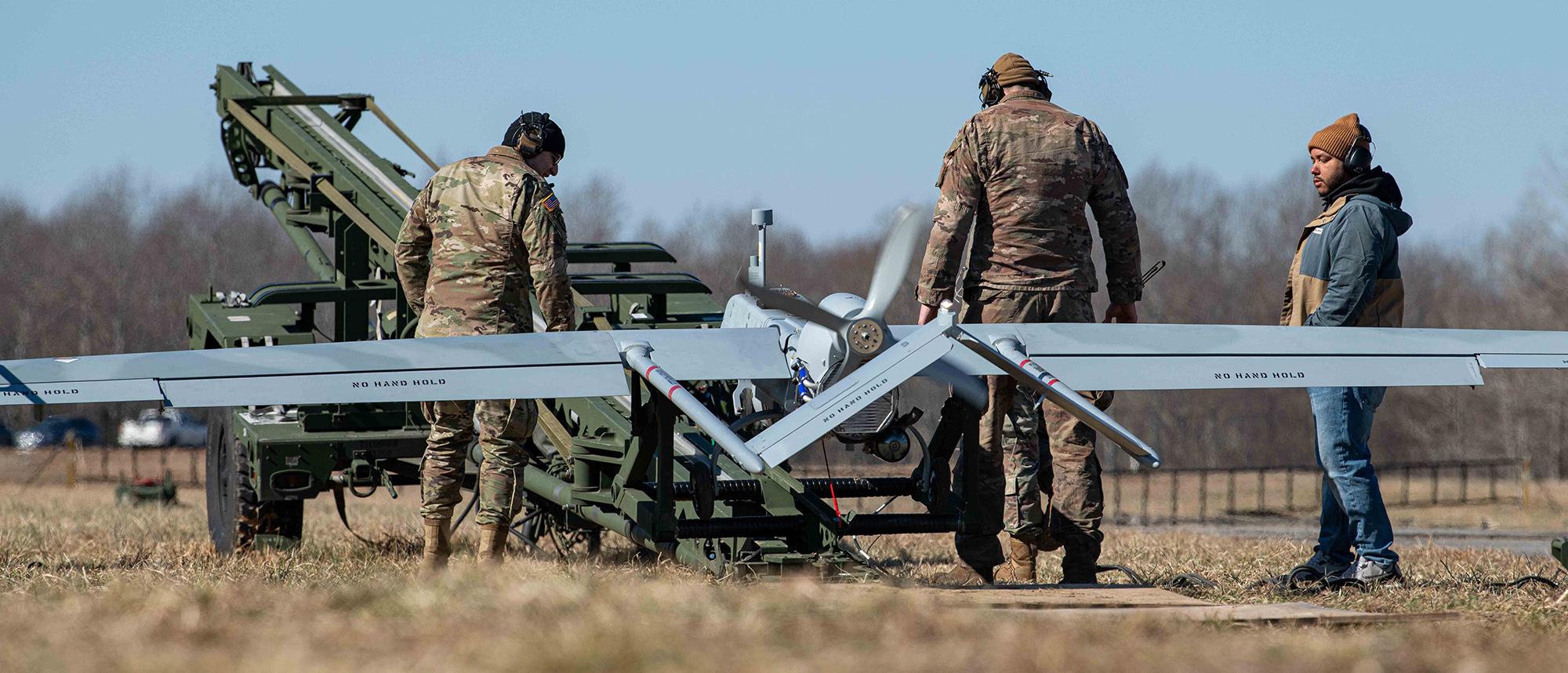 Textron Systems trains US Army on Improved Shadow® TUAS
With over three decades of experience developing, creating and maintaining unmanned aircraft systems (UAS), we've remained committed to advancing the capabilities that UAS provide to soldiers within the battlespace. Shadow® Tactical Unmanned Aircraft System (TUAS) is battle-proven with over 1.3 million flight hours, built to support the U.S. Army Combat Aviation Brigades (CAB), and special forces.
Our Improved Shadow TUAS, or Shadow RQ-7B V2 Blk III, was developed in 2020 to bring enhanced capabilities to the Army's CABs. To support the U.S. Army's fielding efforts of the improved Shadow TUAS, we were selected to provide the soldiers with new equipment training (NET).
Each NET event is a five-week series of trainings which our team conducts with each unit that has received the Improved Shadow. The events consist of two weeks of classroom training with an additional three weeks of flight operations.
As the original equipment manufacturers (OEM) for the Improved Shadow aircraft, our NET team works closely with a skilled team of subject matter experts (SME) and field service representatives (FSR) to ensure soldiers receive complete training necessary to safely operate and maintain the upgraded aircraft. Our team has completed nine NET events, with an additional five scheduled through year-end.
"These NET events provide Textron Systems the unique opportunity to maintain regular touchpoints with the U.S. Army customer from development of the aircraft all the way through fielding and deployment," said Jim Ryan, Senior Director of Business Development. "We have a team of subject matter experts with an operational mindset who are dedicated to supporting the sustainment of the Shadow TUAS."
The Shadow RQ-7B V2 Blk III aircraft provides soldiers with advanced capacities needed for success in the continually evolving battlespace. The Improved Shadow system includes mission-focused upgrades including a 24% increase in horsepower, and more advanced HD payload capability. The system also is environmentally hardened to withstand up to two inches of rain per hour. More than 100 Improved Shadow aircraft have been fielded to the U.S. Army as an upgrade to the previous Shadow TUAS.
Shadow TUAS will continue to support global military operations for the U.S. Army through 2036.
We are committed to ensuring Shadow TUAS remains equipped with greater operational capabilities needed against a wide range of adversaries and mission sets—#WeAreTextronSystems.