Work-life Balance Benefits Employees and Employers Alike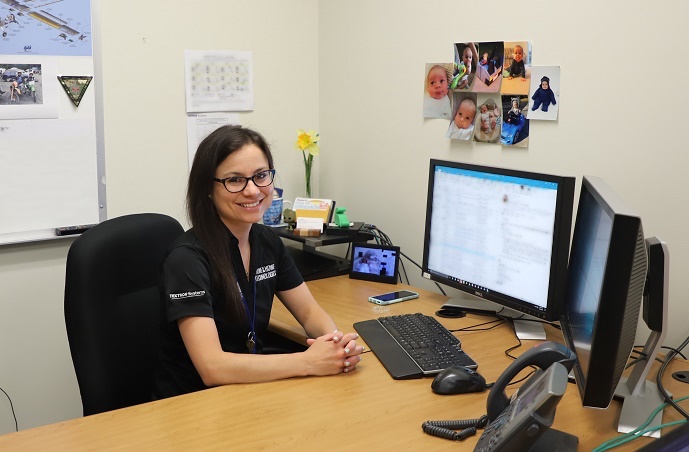 As a Program Director for Applied Technologies & Advanced Programs (ATAP), Sara Willett understands the importance of prioritizing tasks and getting the job done, but also the importance of prioritizing home life. Blocking out time to recharge and understanding employees' needs for flexible schedules are important aspects of maintaining a healthy work-life balance.
Understanding that an employee's work schedule is going to change due to different life stages is essential to a leader's and an employee's success. As Willett noted, "I used to stay at work late, but now I have to leave on time to pick up my son from daycare to be able to spend time with him before he goes to sleep. If needed, I am able to remotely log back into work in the evening to complete a task." Blocking out time to dedicate to family and outside interests allows time to step away from work and recharge.
When asked about being a leader and handling different employees' needs, Willett emphasized the need to just have a conversation. "I've always been open to being flexible to differing work schedules as people have different needs," she said. "As long as you're collectively getting the work done, a little bit of flexibility goes a long way in maintaining employee productivity."
It's important for both leaders and their direct reports to feel comfortable with taking time off. Willett shared her own experience, saying, "When you leave to take vacation, you should delegate some of your responsibilities to your team members, which helps build a more well-rounded team." This approach gives employees the opportunity to gain new skills. When her team members take time off, Willett ensures they feel comfortable and supported. "I always try to make sure my people know it's 100% okay to take your vacation and get away for a little bit to come back recharged and refreshed."
Willett has worked for a variety of leaders who have made her feel comfortable with taking time off. Recently, when she took vacation, she said, "I spoke to my manager and said, 'I know it's not a great time. Certainly, I can be available as needed.' And he said, 'No, absolutely take the vacation. The work is still going to be here. We'll cover down for you; it's not going to be a concern.'" It's always beneficial to take a vacation to recharge.
As for Willett's advice for soon-to-be parents? "People respect the fact that you want to spend time with your kids," she said. Having a conversation with your leader up front about what flexibility you'll require in your work schedule is beneficial. Make sure to mention your commitment to maintaining the same workload and quality of work.