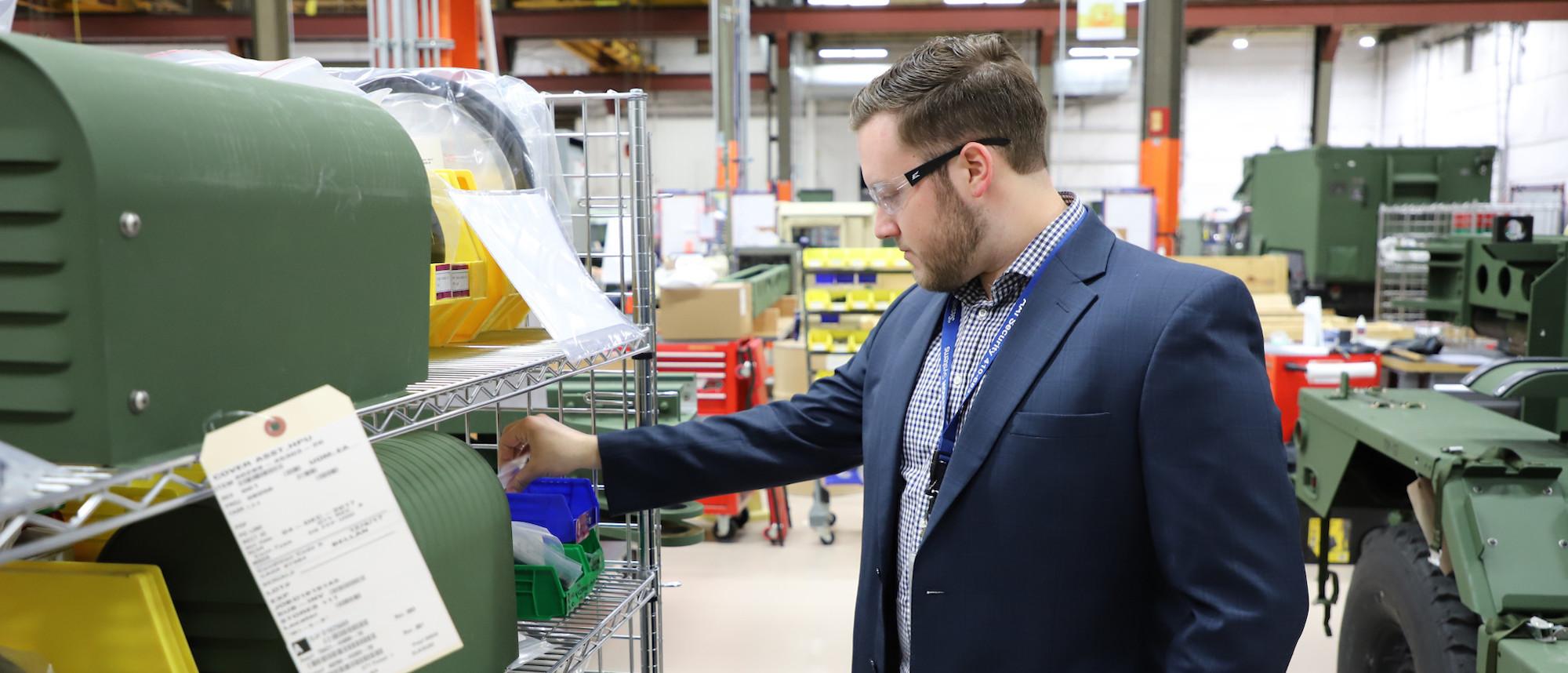 Understanding the Integrated Supply Chain (ISC) from Start to Finish
The Integrated Supply Chain (ISC) Rotational Program is designed to develop ISC professionals by rotating them through a series of diverse assignments meant to broaden their technical capabilities and business acumen, and increase collaboration across the organization. Program graduate, Production, Control and Logistics Manager, Kevin Conte shares how the ISC Rotational Program broadened his knowledge-base in every function of ISC through real-time work experience throughout the 24-month program.
1. What enticed you to join Textron Systems' Integrated Supply Chain (ISC) Rotational Program?
When I started here, I started working for the EHS [Environmental Health & Safety] group. They report up through the Integrated Supply Chain. Because of that, I got a lot of exposure to the other areas of the supply chain. Whether it was the manufacturing teams, the quality teams or the procurement teams, I got to work closely with them. And the more closely I worked with them, the more questions I had, the more interest I had in understanding "why." I had a lot of questions. The rotational program came up, and it was a great way to answer all those questions that I had.
2. What opportunities has the ISC Rotational Program provided for you in your career?
It's kind of limitless, and what I mean by that is it gave me the tool set between having the EHS background and knowledge, working on the procurement team and planning team, and with production, control and logistics.
If I go into a program kickoff with program folks and contracts, there's questions that I can be asking to understand, "Hey, we're signing up for this requirement and this widget has to get delivered in this quantity, by this date." The questions I'm able to ask because of the knowledge I was able to gain in each one of those rotational positions is kind of invaluable.
It's very cool to understand the supply chain from the very beginning, all the way through the end-item deliverable to the customer. Then we work with Support Solutions to say, "Okay, now you sold it and here's the sustainment of that product." The full life cycle of the product is really where a lot of the value has been after rotating through there, and to really work intimately at each stage of the product life cycle has been very eye-opening to different career paths. It's a challenging breadth that you're given, so it's an intense rotation that you're doing and you are given challenging assignments.
3. What advice would you give to someone entering the ISC Rotational Program?
Own it. Own your rotation. And what I mean by that is do something out of your comfort zone. You'd be doing yourself a disservice to have the opportunity to rotate around like that and not take advantage of the entire department that you're going into.
4. During your rotations, did you reach out to other team members to gain a greater understanding of the various roles in ISC?
As much as it is individual knowledge as you rotate, it's relationship building –  understanding of others' roles plays a huge part. There's plenty of contacts I have now, and it's a two-way street. If they have a problem trying to get material to the floor or something shipped out, or this purchase order is coming in, they know they can call me and say "Hey, here's what's coming in, here's the information, and I need your help," and vice versa. It's definitely opened up the channels of communication to support the business better.
5. Can you explain why ISC is so important to our company?
It doesn't matter what industry you were to rattle off right now, it's imperative. Having that knowledge [of ISC], it's a transferrable trait to anything you can imagine.
6. In what ways has becoming a leader helped you in your own development?
I definitely look at things differently. When I first started, it was four years ago now, as an entry-level individual contributor given my daily tasks and functioning in the weeds working on that. It was challenging to relinquish some of the "in the weeds" responsibilities, so it's challenged me professionally to set expectations appropriately and set the teams up accordingly so we can all be successful on the goals we have to accomplish.
7. What are the complexities of overseeing various functions within ISC?
It's interesting what differs greatly and what is very similar. For example, the functions do things differently, such as shipping a part out to a customer. Every department has a different customer, so they are going to ship things out differently. They're doing the same shipping transaction or delivering transaction, but there's all these different spider legs and so forth that those product lines can support. It's challenging to get standard work procedure or process in place. It's the same up to a point. It's challenging to have the save problems needing vastly different solutions.
8. How has working with various managers throughout the ISC program impacted the type of manager that you would like to be?
I think because I did that rotation and had multiple functional managers, I absolutely have a hybrid style of each one of them. Down to the very key, minute things that some managers do that I really enjoyed, I've adopted that – to the overarching, such as how often you communicate and what you communicate to your team, and everything in between. There's definitely learning opportunities and things I carried over from manager to manager. It's been unique exposure to go through different managers in different functional areas.
9. Where do you see yourself going next?
I see myself going to the next pain point or bottle neck of the business. I love a challenging, problem-solving task. This may sound crazy to a lot of folks, but I'm happiest when I'm surrounded by chaos with a laundry list of items that need to be fixed. One of the more satisfying things that I get out of work is starting out with an issue, working through it and then being able to look back and see all the accomplishments that the team has made.
Find opportunities in the ISC organization by visiting the Textron Systems Careers Page.