Trending in Electronic Warfare
The means by which unconventional battlespaces are formed and fought today have shaped the electronic warfare (EW) trade space for militaries and businesses alike. Learn more about EW as Textron Systems Electronic Systems Senior Vice President & General Manager Steve Mensh discusses the electromagnetic spectrum as a now-and-future critical battlespace.
Q: What has been the most disruptive technology that has brought the EW industry to its current state?
A: Proliferation of inexpensive, commercial semiconductor technology has changed warfare forever. With it emerged a key enabler for nonconventional actors, who could utilize smart phones, automobile key fobs or garage door openers to make products that defeat the critical weapon systems that we and our allies employ. Cheap and rapidly deployed, these makeshift tools can be powerful enough to disrupt large-scale, multi-year, multi-million-dollar platforms such as aircraft and electronic countermeasures.
This reshapes the battlefield and the EW business for the U.S. and its allies, not just its adversaries. Today, the ability to operate and maintain presence within the electromagnetic spectrum – as well as the ability to deny its use to enemies – is a battlespace all its own, and one of the biggest challenges our military leaders face today. Not only do these actors operate outside established conventions of warfare, they do so unencumbered by lengthy budget, acquisition and export processes in order to innovate and deploy rapidly.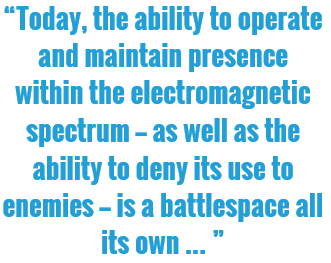 Q: Has this market force impacted how Textron Systems Electronic Systems approaches its internal research and development?
A: Our militaries need to adapt, innovate and deploy as rapidly as the adversary — ideally faster. In 2010, we won the U.S. Department of Defense Universal Test Set program, which was focused on incorporating off-the-shelf technologies into a system that could detect improvised devices being used for spectrum disruption. Building on that program's success, we recognized the need to revolutionize how we were bringing EW test, training and simulation equipment to the marketplace.
Q: How did the organization address this imperative?
A: We have embraced commercial technologies and best practices in every part of our business. At the earliest stage of development, our products are engineered to incorporate modular and commercial components to standardize configurations. This accelerates the time to customer, but also reduces total life cycle cost associated with training, spares and logistics. In addition, each product is designed with both present requirements and future growth in mind. Not only do we vertically integrate our product suite to provide end-to-end capability from the lab to the field, we build in scalability to inject new capabilities over time – again, allowing the customer to adapt and deploy rapidly.
Q: How has the marketplace responded to this philosophy?
A: Our EW simulation product line is a perfect example of how this business ethos has impacted our customers positively. In 2007, we brought to market our A2PATS™ EW simulator, and first sold it a year later to the U.S. Navy. Our assessment of the market environment at the time was that choice was limited, and industry had not done enough to innovate against a variety of emerging customer requirements. We offered a novel approach to build modularity and scalability into our system. The market responded through adoption – today, we have an expansive A2PATS installed base including industry and academia, as well as military labs.
Through continuous investment in the A2PATS product line since its introduction, we continue to enhance collaboration, speed and performance; for example, it is the only simulator that allows highfidelity multiple-ownship modeling. The product line is expanded from a desktop variant to the most powerful, multi-cabinet configurations for customer flexibility. Our latest offering, the A2DRI™, is an accessory that allows customers to convert pulse descriptor words into their format of choice quickly and easily, giving current and future customers the ability to utilize all of their source data fully within a single equipment investment.
We also have incorporated commercial best practices into post-delivery support, including continuous software upgrades and life-cycle sustainment strategies to optimize equipment operation and availability.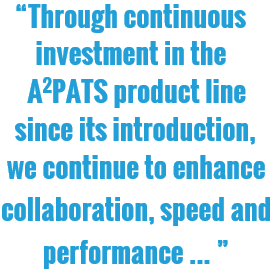 Q: Looking into the crystal ball for a moment, what are the next big trends emerging in EW?
 A: On the defense side, the move from conventional to digital warfare is a complex and ongoing challenge that will not be solved quickly. Wars will be fought and won with the collection, evaluation and understanding of big data; and the ability to control that data depends on access to the spectrum through which it passes.
From the battlefield to our own backyards, the continued proliferation of inexpensive, commoditized technologies such as drones are driving commercial EW research. Around the world, we see emerging needs for spectrum control or denial, from satellite and cellular networks to the privacy of our homes.