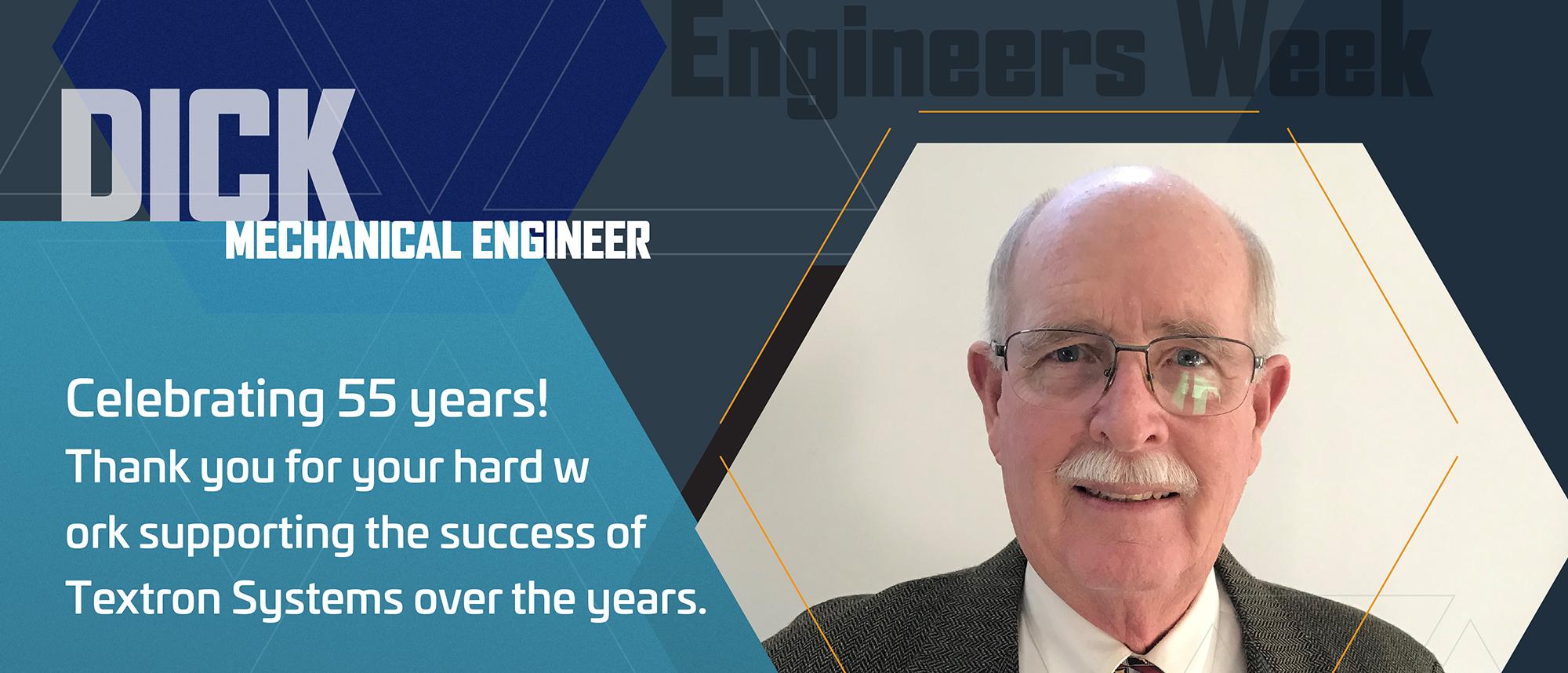 Meet Dick Q. - Celebrating 55 Years of Engineering Excellence at Textron Systems
Dick, a mechanical engineer based in Hunt Valley, Md., is celebrating 55 years with Textron Systems this February. Dick got started with the company after graduating college and applying for a mechanical engineering job through a referral. During Engineers Week 2021, we honor Dick and all the engineers who bring our ideas to life.
What do you enjoy most about working at Textron Systems?
The thing I enjoy most is that the work is so interesting. In 1966, I applied for a position in the mechanical department and on my first day of work I was told we would need people in the ordnance department, because it's a lot like mechanical. It's been "a blast" ever since! From my first day I was learning new things and working in areas different from what I had studied. Over the years I've worked on so many different projects, from different kinds of ordnance and air-drop systems to high speed production machine jobs to Unmanned Aerial Vehicle (UAV) work. Now, I'm working on the electronic systems side. There's always something new and exciting to work on.
What milestones or projects are you most proud of in your time with Textron Systems?
I would say the work I did on a number of air-drop systems. This work started in the late 1970s through the mid-1990s; I even lived in Yuma, Ariz., three different times with my family to oversee test programs and make on-the-spot decisions to gain the most data from each test. I became a key individual on these programs, and it made me feel good about my work and my future. We had a lot of fun and I like to say we made dreams come true. We get tasked with something, often something challenging, and we always find a way to get it done which is a great feeling.
What is it about Textron Systems that has kept you here this long?
Good fortune over the years, for one! I've had the opportunity to work on a lot of different mechanical systems programs which has kept the work important and interesting. There's always been mutual respect between myself and my co-workers, regardless of what positions we held. I couldn't have asked for a better job. I've met the nicest and smartest people, and I would do it all over again the same way. I truly can't say enough about how great my experience has been.
What advice would you give to a new hire joining your team?
We do things here that haven't been done before. There's always a challenge to overcome which keeps the work so interesting. Also, ask people questions. Everyone I've worked with here has always been generous in helping other people out. Throughout my time here, I've been part of a true team, so use that to your advantage. We have great people to work with, so be yourself.
Engineers like Dick make a difference for our customers every day. Thank you, Dick, for 55 incredible years!
Interested in joining our Textron Systems team? Check out our various job openings today.