Employees Volunteer to Make PPE for Johns Hopkins
Personal Protective Equipment (PPE) is in high demand during COVID-19 efforts. To help combat the low supply, volunteers are helping the Johns Hopkins Health System by making face shields, PPE packs, and more for their hospitals across the U.S.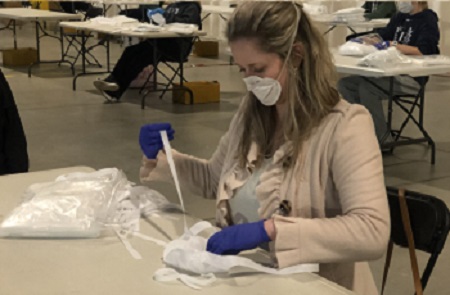 Many Textron Systems employees have been volunteering their time to help. Volunteers sign up in advance and are limited to 50 per four-hour shift in order to maintain social distancing requirements. Stations are set up at least 10 feet apart, and are focused toward different tasks, such as cutting foam, peeling plexiglass film, hot gluing face shields, tagging and folding reusable gowns, dispensing bulk hand sanitizer into individual containers, and kitting face coverings. Volunteers also assemble PPE packs with a face shield, 4-ounce hand sanitizer, paper bag, marker and surgical mask, when they are available.
Jay Giambarresi, Integrated Supply Chain (ISC) Specialist, said they make the most out of the shifts. "It's a great thing to do after work and on the weekends because it gives you an opportunity to get out of the house in a safe environment! I'd recommend it to anyone with some spare time on their hands."
Marcus Alston, Sourcing Specialist in the ISC Development Program, agreed that the volunteer opportunity is a great way to get involved. "Volunteering at Johns Hopkins has helped me get involved in my community and give back! Plus, the gratification of knowing you did what you could to help make someone's life easier is an added bonus."
The volunteers are making a huge difference, making over 80,000 face shields so far for Johns Hopkins, in addition to face coverings, PPE kits and more. Jenna Laube, Environmental Health & Safety Manager, discovered this opportunity through her philanthropic network and has already produced over 6,500 face shields and PPE kits throughout her 20+ shifts since March 22. If you are interested in volunteering, click here for more information and to sign up.
Laube says to think through safety before getting involved in any volunteer opportunities though. "Safety is the number one priority. Think about how any activity affects your exposure, especially if you live in a house with other people or are going into a workplace. Do your research and make sure the organization is equipped with safety precautions."
Tayoni Scott, Logistics Manager of A2PATS®, is happy to help. "I love giving back to my community any way I can. I know a lot of people are hurting right now and need someone to meet them where they are – I really just want to be a part of the difference that makes these trying times a whole lot better."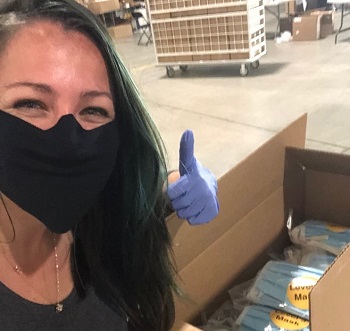 Our Textron Systems team members are spending their nights and weekends making a difference in their community. We want to help in any way possible, too, and will be donating masks, face coverings, and cutting foam strips for Johns Hopkins' second wave of face shield manufacturing.
With the hospital systems' approval, trained specialists from Textron Systems, Ron Stahl and Troy Lawicki, have been using in-house precision cutting machinery at our Hunt Valley facility to cut foam forehead strips. The foam strips will be used to make 36,000 more face shields. In addition, our team donated 100 cloth face coverings for use in Johns Hopkins' warehouse.