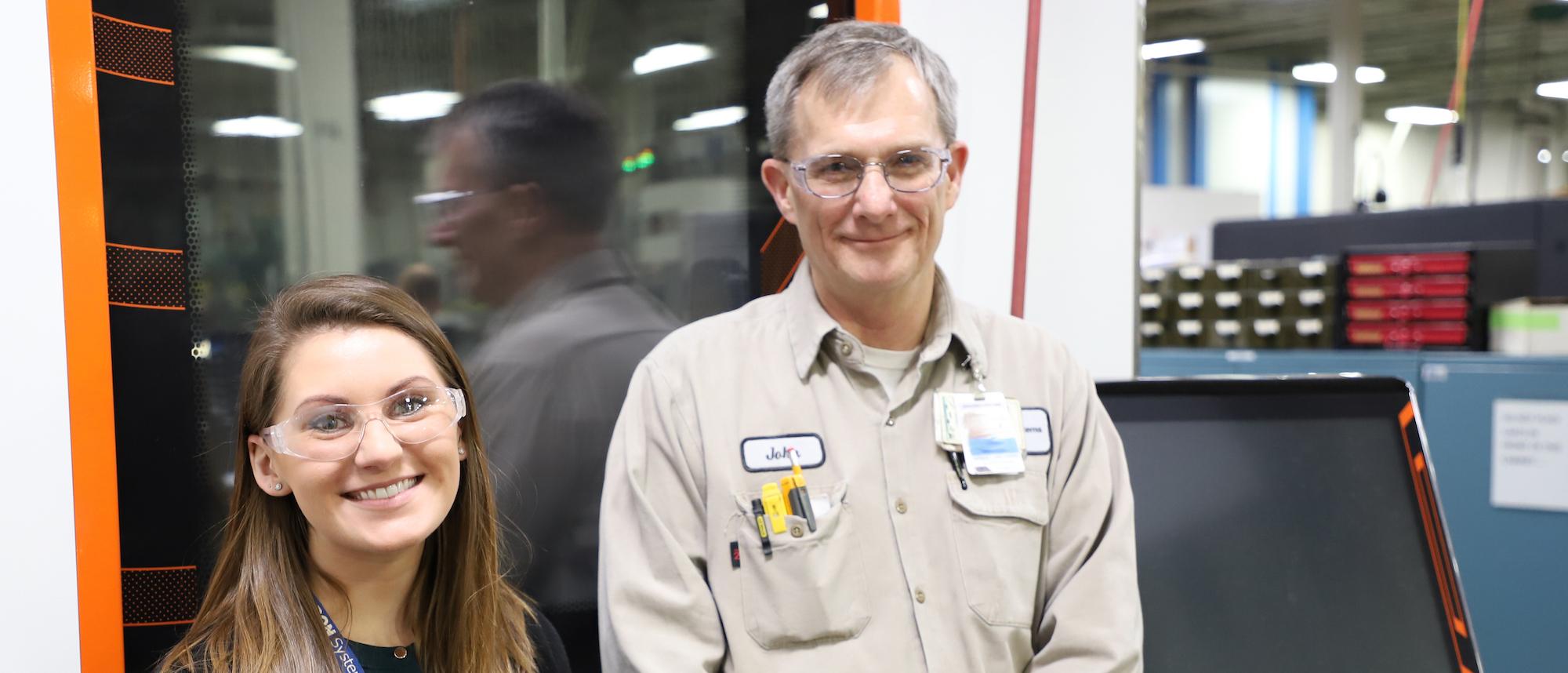 Collaborating to Keep the Company Safe
Even when machinery isn't in use, there can still be energy being held inside the systems. Failure to control hazardous energy accounts for nearly 10 percent of major accidents in the workplace. The purpose of a Lockout Tagout program is to ensure that machinery is de-energized and the proper locks and tags are applied to prevent injury to personnel during servicing or maintenance.
Maryland-based Textron Systems employees Danielle Wagner and John Monius teamed up to improve daily procedures around this fundamental concept. The collaboration of a company mechanic who has been with Textron Systems since 1980 and a young professional in the Integrated Supply Chain (ISC) rotational program made critical improvements across the business. These two unique perspectives minimized potential hazards on the shop floor to keep our most important resource — our people — safe.
What is our Lockout Tagout program, and why is it important?
Danielle – The main purpose is to ensure that any sources of energy are isolated and de-energized prior to anyone working on that machinery. We had general procedures in place for Lockout Tagout, but we realized there was room for improvement. That's how I was brought into the project. We are now writing equipment-specific procedures for equipment here on campus. 
John – She (Danielle) took it three or four steps further than it was previously. The Lockout Tagout program is important because it keeps all of our employees safer. We're isolating electronics, hydraulics, pneumatics and any pressurized systems on our equipment. 
What is your role and how long have you been working at Textron Systems?
Danielle – I'm in the ISC development program. I've been with Textron Systems for about a year and a half now, and I've been working with the Environmental Health & Safety team for four months.
John – I've been with the company for 37 years and three months now. I work to maintain our equipment including building machines, blades, routers and everything on the manufacturing side of things.
What improvements were made to the Lockout Tagout program and how will it positively affect the business?
Danielle – We're preventing people from unintentionally injuring themselves while working on machinery, whether it's for maintenance, calibrations or any other daily use. If a new employee ever finds themselves servicing a machine they aren't familiar with, they might not be aware of all the energy sources that could hurt them. Sometimes these sources could cause injury or even death. The new procedures are going to help itemize what someone has to do to lockout the equipment to work on it safely. Any new employee should now be able to maintain this equipment without the chance of harm or injury from lack of knowledge.
How did working as a team help the final outcome of the project?
Danielle – I came into this project knowing close to nothing about a lot of the machines we have. I needed John to give me his brain dump of all the knowledge he has accumulated during his time here. It's important to have a lot of experience and knowledge with the machines in order to understand where the hazards are. I don't think there would have been a project if we hadn't worked together.
John – I think we worked very well together! Danielle is very gifted. She's observant … a fresh set of eyes. For someone who really doesn't know much about my job, she always asked the right questions. When you ask the right questions, good results arise. 
The young people are the future of this company. Some things just aren't taught in school. We have to learn every day. I know I do, and I'm 62 years old! We want to make this place better and safer.
What was the largest challenge of this project?
Danielle – A lot of it was the sheer quantity. We have so many things here that needed a procedure and have the potential to hurt you if used incorrectly. There was a lot to cover. We started back in November and are still making improvements.
What lessons did you learn while updating our Lockout Task program? 
Danielle – The hazards of equipment aren't always intuitive or visible from the outside. It's important to always be cautious and analyze the situation fully.
John – Think before you act. You wouldn't put your hands on a running engine. It's the same principal.