Celebrating Our Teammates: Textron Systems Australia Engineer Named Finalist for AAUS Award
Steven, a mechanical and aeronautical engineer with Textron Systems Australia, was named a finalist for the Australian Association for Unmanned Systems (AAUS) NextGen Achievement Award. This award recognizes young individuals (under 35 years old) that demonstrate elite capability and leadership in their field within the unmanned systems sector. Steven was nominated by his team for his dedication and work leading the development of innovative products for Textron Systems Australia.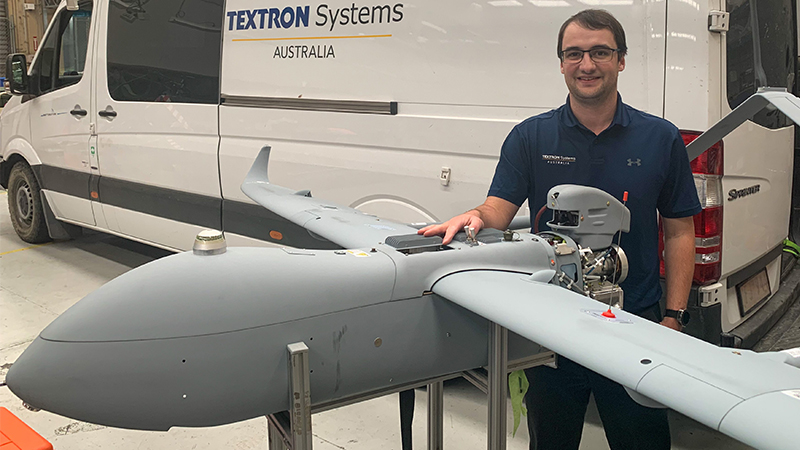 Why did you pursue a career in engineering?
STEVEN: I was always curious about machines, particularly flying machines. I really liked science, technology, engineering and mathematics (STEM) and problem solving. Problem solving is something you do a lot of as an engineer, and I really enjoy that. I think I've always been a bit of an aviation geek.
What does it mean to you to be recognized as a finalist for the AAUS NextGen Achievement Award?
STEVEN: It was a big honor to be nominated. I'm the team lead here, but I feel like I'm just the tip of the iceberg for a great innovation team. It's a recognition of my work but also of the work the team has done on the cutting edge of technology. It's bigger than just me. Personally, it's humbling to be part of a group of industry leaders doing their part to push forward unmanned technologies and industries.
One of the reasons you were nominated for this award is your project management practices that have been integral to Textron Systems Australia's success; how are your creativity and new ideas fostered at Textron Systems?
STEVEN: The key is opening up our teams to have the freedom to push the boundaries of what is possible without the fear of what is traditionally called failure. Management here fosters a great culture; there's always a willingness and support to try new things. The ability to foster continuous improvement and to push forward on the next good thing has resulted in a really supportive culture here.
What continues to drive and inspire you in your professional career?
STEVEN: I feel honored to be working as a team lead. We've got some really clever people doing a lot of cutting-edge things; it's always driving me forward to see my team succeed. I get to help them solve their daily challenges to do things that have never been done. To go through that process and get to the end – you feel a lot of pride in what you've achieved. It's definitely a driving factor.
How will this recognition further empower you to grow as an engineer and as a leader?
STEVEN: Knowing your contributions have been recognized so publicly is inspiring. It's empowering, and it will remind me to keep pushing harder on myself, my team and the company so we continue to grow both as an organization and as individuals.
What advice would you give to other young professionals in STEM looking to make an impact?
STEVEN: Don't be afraid of failure. There's always challenges and bumps along the way, but don't be afraid to have a go at something you don't think you can do. There are always opportunities to improve and keep learning. Also, challenge the status quo and ask "why?" There will always be someone who will give you an answer, and the voice that asks why is the one that keeps the organization on their toes.
Join us in celebrating Steven for this outstanding recognition!