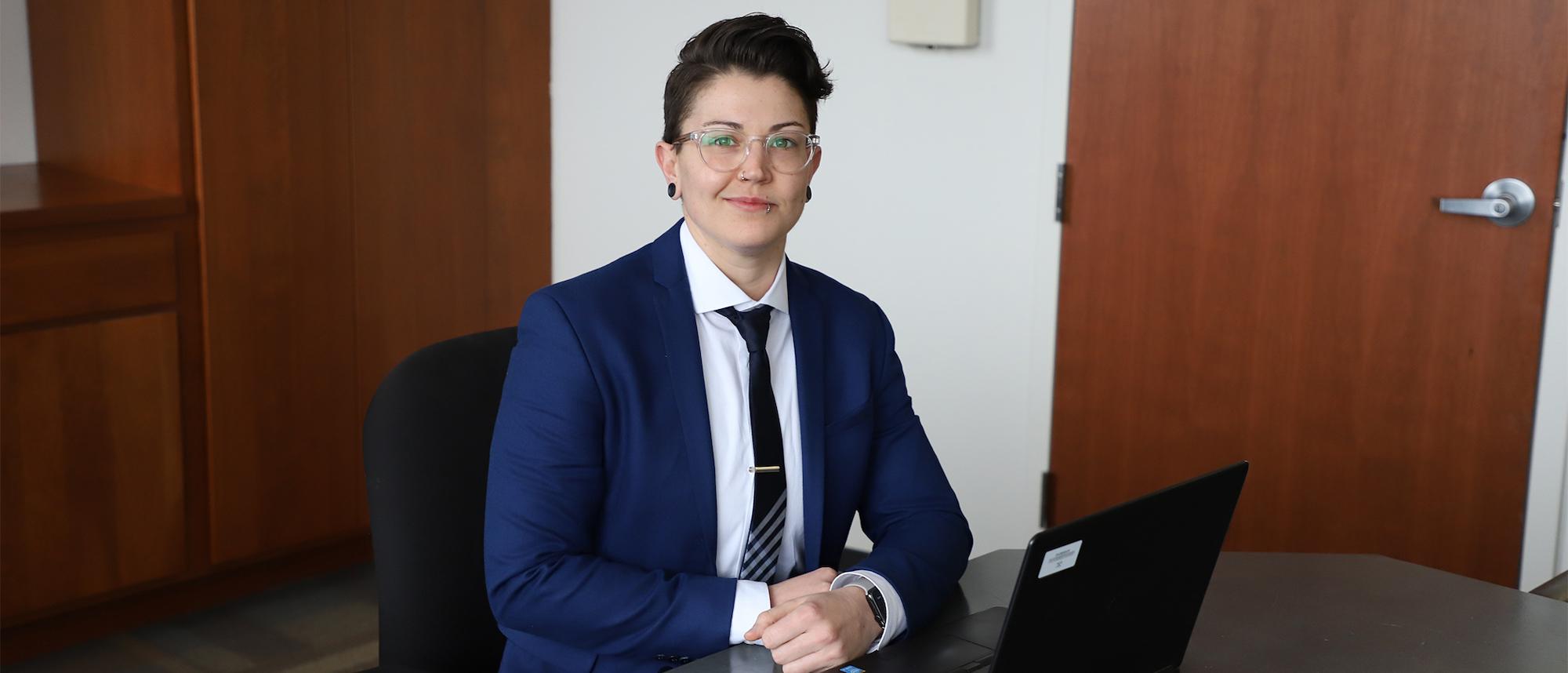 Asking "What's Next?" for Your Career
Government Property Supervisor Chey Mayer discusses her career journey at Textron Systems and how the Integrated Supply Chain (ISC) Development Program empowered her to continuously identify challenges and take on new opportunities across the business.
1. What has been your career journey at Textron Systems?
I've been with Textron Systems since I began my career in December 2014. I got hired into Procurement and I was a Buyer during my first year. Toward the end of my first year, I began working on a Continuous Improvement (CI) project. From the experiences in that project, I ended up moving into a role in Quality working on CI and Quality Assurance. Almost a year in that role, I began an audit for the government property team. Based on how the audit went, I was then put in the Government Property Supervisor role. It's been a good spread across the ISC organization.
2. What is government property, and what kinds of items might be classified as government property?
Government property is anything that is either provided to us by the government or purchased with government dollars. It can be assets that are used to fulfill a production contract, or it can be assets that the government owns that we're repairing. Essentially, it's anything where the title of ownership is vested with the government and we are contractually responsible for managing it. Our department ensures that all compliance regulations and restrictions are followed. We are responsible for making sure that the company identifies and tracks all the assets and that we are being as compliant as can be. Government property can be anything from a bag of screws to a fully configured unmanned aircraft system.
3. Can you describe your role and responsibilities as the Supervisor of Government Property?
The majority of my day is answering any and all questions that pertain to government property. I am also the point person for the Defense Contract Management Agency (DCMA), which is the middle point between Textron Systems and our customers. As a supervisor, I also have a team who conducts inventory, completes material coordinator tasks, and analyzes issues and fixes them.
4. What opportunities has Textron Systems provided for you in your career?
The ISC department provides such diverse experiences. Whenever I've asked, "what's next?" there's always been something. This is my first year not working as an individual contributor and it's been a great experience. I was able to step up, take on direct reports and gain ownership. Organizational agility is imperative because there is something different to tackle every day. Textron Systems is a company that if you want a challenge and you seek it, there will be something there for you.
In my first year at Textron Systems, an ISC leader identified four problem areas and launched the CI project. He selected twelve individual contributors and placed us into four groups and let us go tackle an assigned issue. He gave us the tools we needed but allowed us to present the resolution as we saw fit. The exposure in the project alone was great. I had the opportunity to meet former Textron Systems President & CEO Ellen Lord as well as Textron Chairman & CEO Scott Donnelly. It was a great experience, and those types of projects are always available, you just have to ask for it.
5. In what ways has becoming a leader helped you in your own development?
Leadership in general was something that I wanted to develop. Having the opportunity to do that over the last year has been a great experience. I've learned things that I didn't even know that I needed to learn, especially through Textron Leadership Essentials (TLE). TLE was a great learning opportunity and very beneficial in learning how to lead a team. I still have so much more to learn but learning how to communicate to each person individually is a learning experience every day. I've gained an elevated level of responsibility, especially in regard to time management through managing my own tasks and tracking the projects of my employees. I've learned to get better at delegating and have eased off the control, giving others the opportunities to take on challenges. This role has equally developed my confidence and my patience. To get across what needs to be accomplished you have to have confidence and authority in what you are saying, but you have to be patient while working with a team.
6. Do you have any good advice or examples from previous leaders that you employ in your current role?
An example would be the CI project; it gave me exposure and the skills to drive my career forward. Now, if I see an opportunity for something to be fixed, I like to present my employees with the challenge because I know that having those types of experiences under your belt can elevate your career and help drive you forward. I believe that as a leader, having people under you succeed, is a good reflection of you. Having a successful team is reflective of good leadership.
7. What advice would you give to someone entering a leadership role?
Listen and ask questions. When you get placed in a leadership role, it doesn't mean you're a subject matter expert but it means you have strong leadership potential. Coming into this role, I had a lot to learn about government property. It's okay if you have a lot to learn and it's expected. Listen to the people who have been doing that job for a long time and let people know that you are a safe space. It's really important to gain that trust and understanding before coming in and making big decisions. Aspire to change things in a positive way but make sure you have a good understanding of the big picture before you implement any changes. Don't try to take it on all on your own – trust your people.
8. Where do you see yourself going next?
I have a lot of aspirations in terms of furthering my education and getting my Master's degree. I know that government property still has space to grow as a department, so I see myself here until the next challenge presents itself.