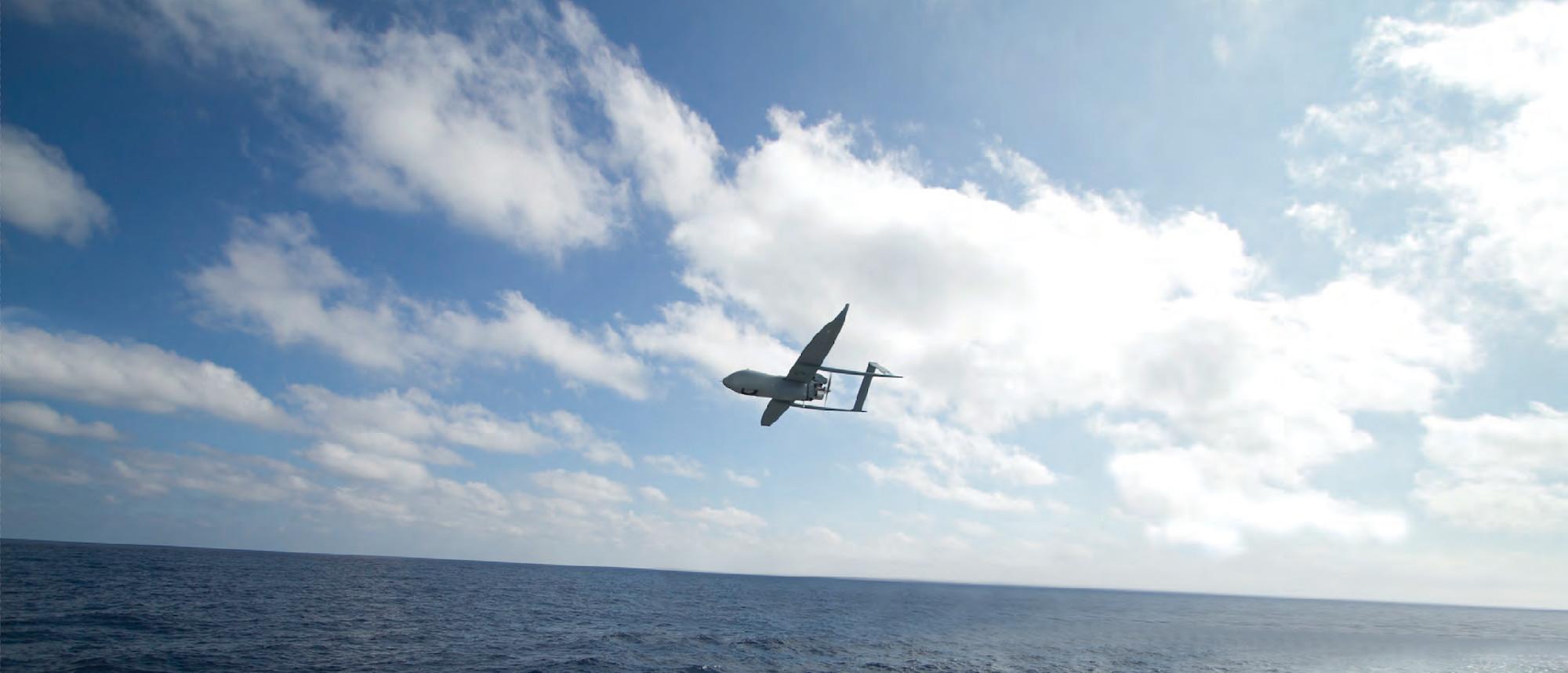 Textron Systems' Vice President David Phillips discusses evolving maritime mission needs and how the Aerosonde® Small Unmanned Aircraft System (SUAS) can provide maritime customers with the capabilities they need for mission success.
Q: Why do customers choose the Aerosonde SUAS?
A: Aerosonde is a highly reliable system that has been proven with over 250,000 hours, with the majority of those hours being completed in harsh, combat operations. It has been operated on all seven continents, withstanding the extreme heat and cold, as well as through desert and arctic environments. We've operated our system in such a wide variety of applications that the risk is extremely low. Successful flights in both high and low altitudes have proven our maturity and ability to execute missions.
Our Fee-for-Service (FFS) customers measure us by Mission Reliability Rate (MRR), which says we are responsible for executing the assigned mission for the entire length of the mission. We are then scored on whether we actually executed the requested mission capability for the entire scheduled timeframe and given a grade on percentage completion. We must maintain a 95 percent or higher MRR at each of our sites, and at 250,000 hours of operational service, we've averaged a 103 percent MRR. So not only do we meet our customers rate of mission reliability, we consistently exceed it.
Q: Why is the Fee-for-Service (FFS) model so successful for customers?
A: FFS provides our customers with the adaptability to turn our services on and off very quickly, and without the need to invest in the entire product lifecycle. They can quickly adapt for a particular mission and rather than change the current system they already own, they can simply change the requirement in accordance with their evolving mission needs. The FFS model, coupled with Aerosonde's multi-mission capability, enables us to quickly reconfigure our system to their current capability needs.
Q: How have the Aerosonde system's numerous payloads offered increased mission capabilities for our customers?
A: That's another advantage of the FFS model for our customers. They don't have to define a specific payload. With our open-architecture system, and expanded Size, Weight and Power (SWaP), we can quickly integrate the capability they need. Our aircraft interface modules allow mission flexibility that can be easily changed from day to day, and from mission to mission, offering a breadth of capability from a single UAS.
Q: What benefits does the Aerosonde system offer for maritime applications?
A: Some of the benefits of using the Aerosonde system in sea-based operations include a single launch and recovery system that requires no ship alteration, multi-mission capabilities and a vast payload capacity. We also have the most mature heavy-fuel engine, which is paramount to our customers in terms of reliability.  Moreover, using the same fuel as the ship is of great value and safety for our maritime customers.
Q: Why are no ship alterations so significant to customers?
A: Some UAS launch and recovery systems must be physically attached to the flight deck; however, our system is designed to be roll-on/roll-off, requiring no deck alterations. It is important to our customers because the flight deck is primarily used for helicopters, with the UAS operating in parallel. We must work collaboratively with the helicopter, so it is ideal to not have anything on the flight deck that could potentially interfere with the operational efficiency of the helicopters. By comparison, some competitors use separate launch and recovery systems, which create additional clutter on the flight deck, and therefore, more potential interruption to the helicopter operational efficiency.
Q: Are there any other challenges with operating a UAS at sea?
A: The sea is a harsh environment, as the high salinity and its corrosive behaviors pose a challenge for UAS. Maritime testing is extremely important to ensure the system is hardened against that harsh environment.
Q: What types of maritime missions do you see customers looking to use UAS for?
A: Customers are looking for high-definition, electro-optic full motion video with infrared capabilities. Synthetic aperture radar is key in maritime missions as well, during day or night, uninterrupted and persistent operations through clouds, and any weather while surveilling a large area. Maritime customers also are interested in missions that involve electronic warfare, communications relays and automatic identification systems.