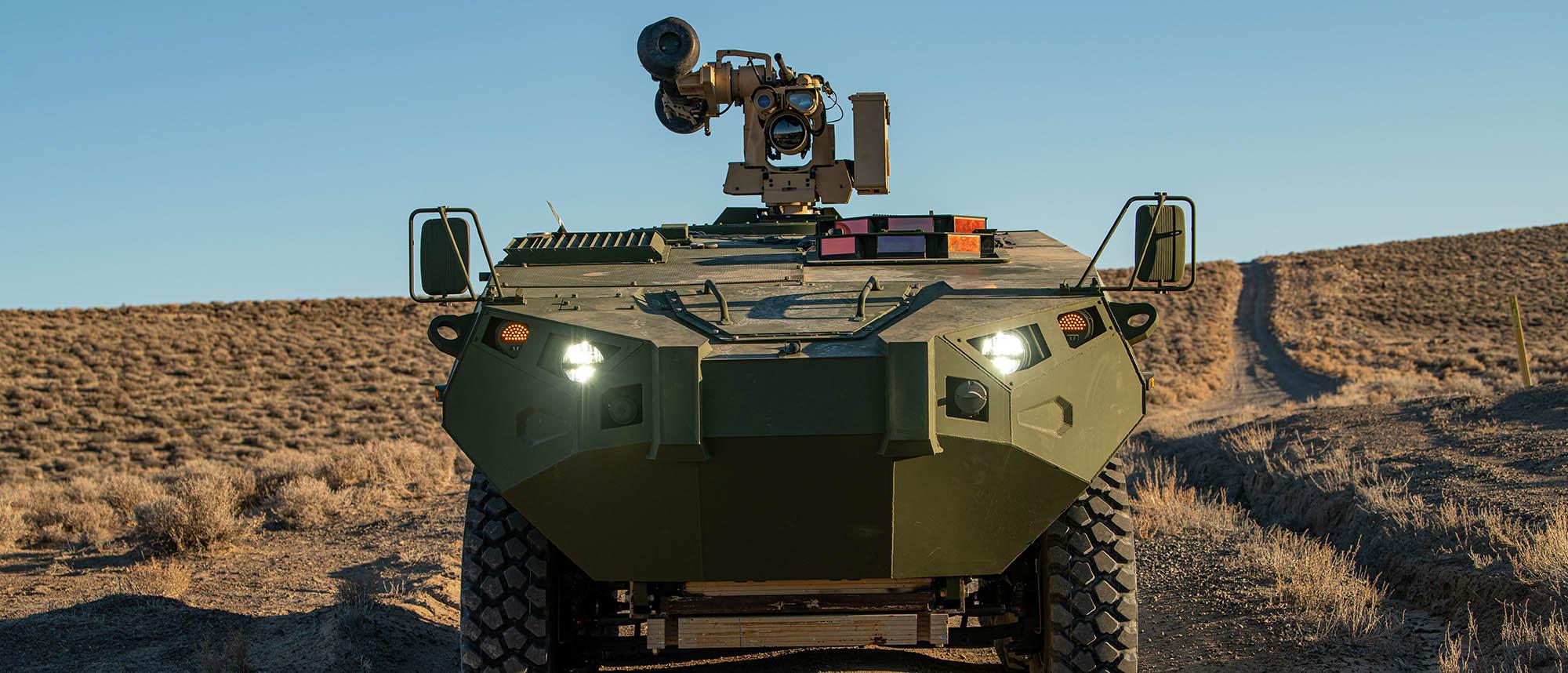 Textron Systems Selected for U.S. Marine Corps Advance Reconnaissance Vehicle Pre-Award
Textron Systems Selected for U.S. Marine Corps Advance Reconnaissance Vehicle Pre-Award
HUNT VALLEY, MD. AND SLIDELL, LA. – Textron Systems Corporation, a Textron Inc. (NYSE: TXT) company, today announced that it has been pre-awarded the United States Marine Corps Advanced Reconnaissance Vehicle (ARV) prototype agreement for its purpose-built CottonmouthTM vehicle. Through the 22-month period of performance, Textron Systems will produce a Cottonmouth vehicle for the Marine Corps that will go through rigorous testing and evaluation. The data gained from the ARV competitive prototyping efforts will be used to inform a USMC decision point in fiscal year 2023.
Built from a clean-sheet design, Cottonmouth is a 6x6 wheeled amphibious reconnaissance vehicle designed to operate within the Marine Corps' Expeditionary Advanced Base Operations (EABO) construct. Designed to swim in the open ocean and navigate through surf zones, this vehicle possesses the advanced maneuverability critical to enhanced reconnaissance operations.
As a next-generation naval sensor node, Cottonmouth has the ability to strengthen communication to operate and employ a mix of reconnaissance, surveillance, target acquisition and C4 systems. Equipped with cutting-edge technology, such as teammate Elbit Systems of America's IronVision™, a "see-through" technology that provides advance visibility and 3600 situational awareness, this vehicle allows the Marine Corps to see beyond line of sight.
"Built from the ground up in less than nine months, the Cottonmouth is a low-risk, mission-oriented solution backed with over 750 miles of data using scenarios representative to the Marine Corps' mission profile and requirements," said Senior Vice President David Phillips of Textron Systems. "The Cottonmouth is a testament to Textron Systems' commitment to the Marine Corps' vision and needs. We are proud to support the service in this next phase of the competition and look forward to working together."
Textron Systems responded to the requirement released by the Government through the National Advanced Mobility Consortium (NAMC) and the prototype award will be executed under their Ground Vehicle Systems (GVS) Other Transaction Agreement (OTA). Textron Systems expects to begin these activities  in fall 2021, with the prototype delivery expected in the first quarter of fiscal year 2023. Per the requirement, a six-month government evaluation period will follow.
###
About Textron Systems
Textron Systems is a world leader in unmanned air, surface and land products, services and support for aerospace and defense customers. Harnessing agility and a broad base of expertise, Textron Systems' innovative businesses design, manufacture, field and support comprehensive solutions that expand customer capabilities and deliver value. For more information, visit www.textronsystems.com.
About Textron Inc.
Textron Inc. is a multi-industry company that leverages its global network of aircraft, defense, industrial and finance businesses to provide customers with innovative solutions and services. Textron is known around the world for its powerful brands such as Bell, Cessna, Beechcraft, Hawker, Jacobsen, Kautex, Lycoming, E-Z-GO, Arctic Cat, Textron Systems, and TRU Simulation + Training. For more information, visit www.textron.com.
Certain statements in this press release are forward-looking statements which may project revenues or describe strategies, goals, outlook or other non-historical matters; these statements speak only as of the date on which they are made, and we undertake no obligation to update or revise any forward-looking statements. These statements are subject to known and unknown risks, uncertainties, and other factors that may cause our actual results to differ materially from those expressed or implied by such forward-looking statements, including, but not limited to, the risk that the U.S. Marine Corps will not choose Textron Systems' prototype for production and risks related to U.S. Government contracts as described in our filings with the Securities and Exchange Commission.
MEDIA CONTACT
Textron Systems
Public Relations Team
978-657-2020
publicrelations@textronsystems.com