Ontario-based IRCO Automation Provides Textron Systems Customized Production Equipment for Major U.S. Navy Program
OTTAWA, ONTARIO – April 22, 2015 – Textron Systems, a Textron Inc. (NYSE: TXT) business, has engaged IRCO Automation Inc., a Burlington, Ontario-based small and medium-sized enterprise (SME) that specializes in developing custom-engineered automated welding solutions, to deliver several major components being used to build the U.S. Navy's new Ship-to-Shore Connector (SSC). The SSC is a next generation amphibious connector craft that will move personnel, equipment and vehicles to shore from Navy ships.
IRCO is the designer and manufacturer of the SSC's Automatic Panel Welder and the Hull Assembly Line (HAL) trolley system, installed at Textron Systems' New Orleans Shipyard. In a second project phase, IRCO recently delivered three gantries, each with separate functions including marking, cutting, tacking and finish weld procedures. The three gantries were integrated with the customized trolley system to enable the transfer of the assembled craft through the production line.
This specially-designed equipment will help reduce process defects, improve productivity and save millions of dollars over the life of the program.
Textron Systems is enlisting Canadian partners to fulfill its Industrial Regional Benefits (IRB) obligations on the Tactical Armoured Patrol Vehicle (TAPV) program. The company is in the process of building and delivering 500 TAPVs to the Canadian Armed Forces.
Having witnessed the expertise that IRCO brought to the table, Textron Systems' SSC production planning management team worked with IRCO management to develop customized, automated welding processes and other essential production equipment for the new Navy craft.
"The IRCO-built assets are helping reduce SSC program labour hours and, in tandem with other assembly systems, will decrease production defects," explained Tom Walmsley, senior vice president and general manager, Textron Systems Marine and Land Systems. " These systems are excellent – they've even contributed to our Ship-to-Shore Connector program team earning the Textron Chairman's Award for innovation.
"The increased quality and productivity that we can deliver to the Navy – thanks in part to these systems – will not only save the program money but will also reduce on-the-job injuries. We are very pleased with IRCO's contributions," said Walmsley.
This collaboration between Textron Systems and IRCO came about as a result of the Government of Canada's IRB Program, the offset policy requiring companies that win large contracts to invest a significant amount of their contract value into industrial development and economic activity across the country.While providing valuable production equipment for the Ship-to-Shore Connector program, the design and production of these systems in Canada further develops the expertise of a Canadian SME in an area essential to other industry sectors.
"To deliver this contract, our Burlington, Ontario facility has grown by more than 30 percent, with new engineers and manufacturing personnel; so this is a highly transformative opportunity for our company," said Hubert Bethlehem, president of IRCO. "Our off-the-shelf and custom solutions are already at work in many sectors – oil and gas, rail tanker-car, machinery manufacturing, transportation and fabricated metal products. Now with this project, we are expanding our reach into the defence sector. A win like this positions us well for further growth and export opportunities, and gives us access to business which otherwise would not have been available to us – truely a great example of how Canada's IRB Program delivers the benefits it promotes."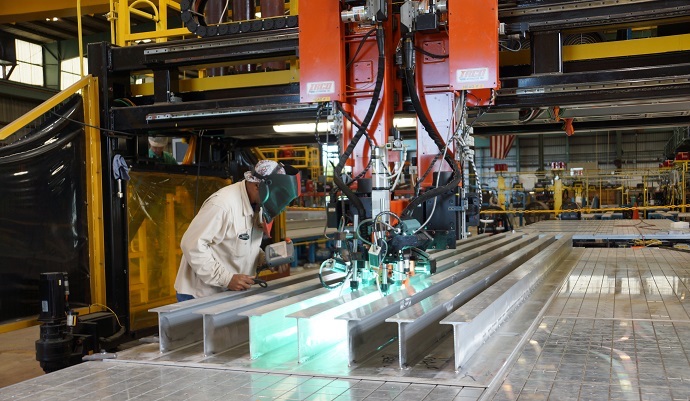 About IRCO
IRCO Automation Inc. designs, engineers and manufactures welding positioners, manipulators, beam positioners, turntables, turning rolls, head and tail stocks, as well as fully automated, integrated custom welding systems. IRCO has been in business for more than 52 years and is located in Burlington, Ontario. More information is available at www.ircoautomation.com.
About Textron Systems
Textron Systems' businesses develop and integrate products, services and support for aerospace and defense customers, as well as civil and commercial customers including those in law enforcement, security, border patrol and critical infrastructure protection around the globe. Harnessing agility and a broad base of expertise, Textron Systems' innovative businesses design, manufacture, field and support comprehensive solutions that expand customer capabilities and deliver value. Textron Systems consists of its Advanced Information Solutions, Electronic Systems, Geospatial Solutions, Lycoming Engines, Marine and Land Systems, Support Solutions, TRU Simulation + Training, Unmanned Systems and Weapon and Sensor Systems businesses. More information is available at www.textronsystems.com.
About Textron Inc
Textron Inc. is a multi-industry company that leverages its global network of aircraft, defense, industrial and finance businesses to provide customers with innovative solutions and services. Textron is known around the world for its powerful brands such as Bell Helicopter, Cessna, Beechcraft, Hawker, Jacobsen, Kautex, Lycoming, E-Z-GO, Greenlee, and Textron Systems. For more information, visit www.textron.com.
Certain statements in this press release may project revenues or describe strategies, goals, outlook or other non-historical matters; these forward-looking statements speak only as of the date on which they are made, and we undertake no obligation to update them. These statements are subject to known and unknown risks, uncertainties, and other factors that may cause our actual results to differ materially from those expressed or implied by such forward-looking statements.
Media Contacts:
Tom Williams
410-628-4683
twilliams@textronsystems.com
- or -
Keelan Green
613-220-2016
green@prospectusassociates.com