Know Thy Customer: Feature with BD Director Alex Nichols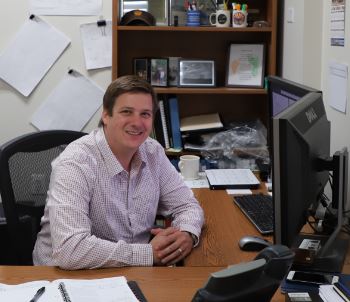 Director of Business Development (BD) Alex Nichols joined Textron Systems almost thirteen years ago as a Software Engineer. He supported Electronic Systems' training programs and was recruited to join the BD team when the team took notice of his successful customer interactions at industry trade shows.
Nichols now leads a BD team supporting products from Electronic Systems and Geospatial Solutions groups. "Ultimately sales are the end goal, but a true goal for me is to keep people gainfully employed. We need to sell programs and keep maintenance money coming in, not just off-the-shelf products to keep our engineering teams engaged in the development of new technology," Nichols explained.
Understanding customers' true value criteria is instrumental to the success of Nichols and his team. "You must spend time visiting the customer and getting to know them and their unique needs. Long term relationship building and communication allows you to better understand the customer's top evaluation criteria in making a purchasing decision."
Nichols explained the importance of continuing communication after a sale, "Aftermarket engagement equips our BD team with intelligence, new requirements and basic customer feedback. BD can then flow that information over to engineering and implement it into our strategy moving forward to better serve our customers."
Nichols attributes honesty as one of the most important factors in establishing a customer relationship. "It's okay to say, 'I don't know.' It goes a long way with your customers because they appreciate your candidness, which builds trust," Nichols stated. "Honesty allows you to build rapport and instills customer confidence," he continued.
Offering advice to aspiring leaders, "Don't be afraid to speak your mind," Nichols stated. He explained, "One of the most important things is that you are passionate about your work. When you're passionate about what you do, other people will notice."