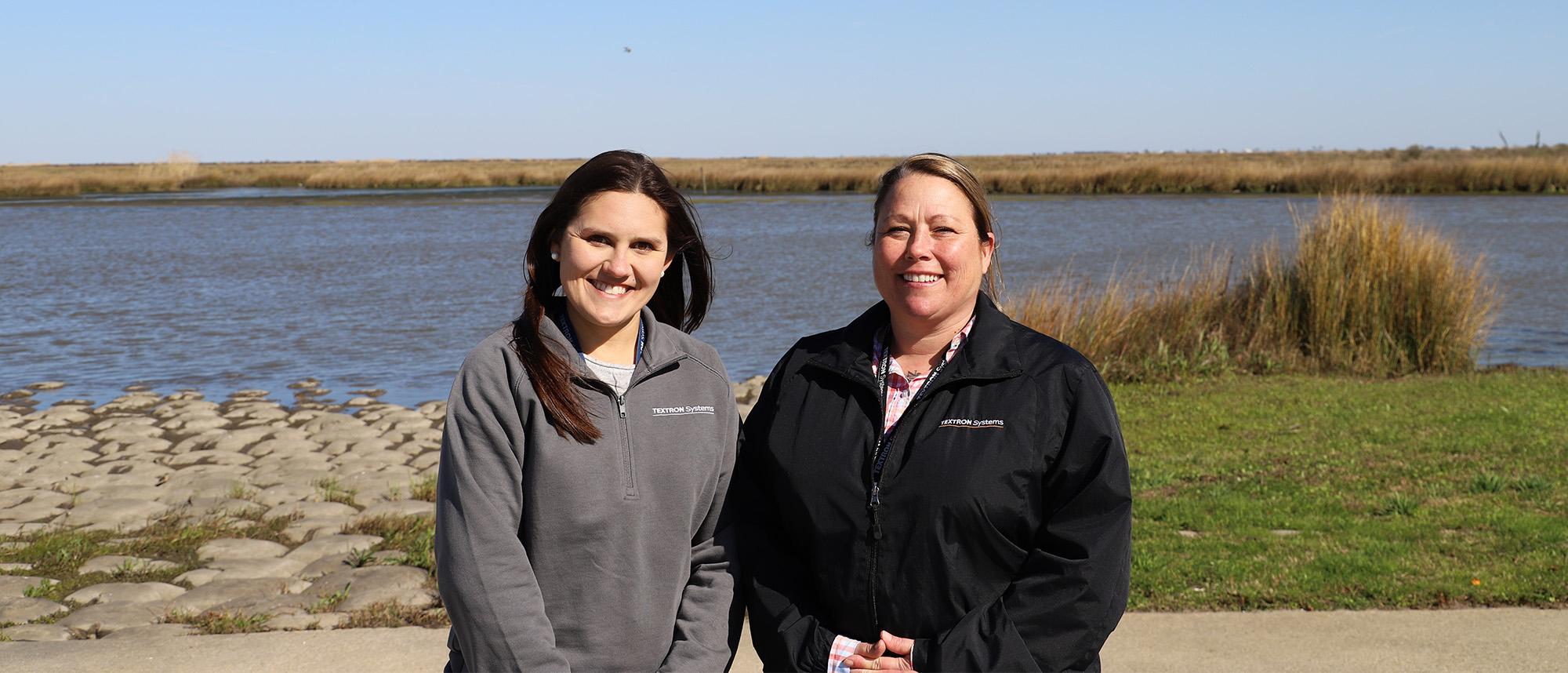 Behind the Mission: Women of the Shipyard
We are Textron Systems and not only do we build cool stuff, we employ cool people. Across the organization, our team is comprised of dedicated innovators and collaborators committed to producing the best products in support of our nation's warfighters.
Our Shipyard facility is home to the Ship-to-Shore-Connector (SSC) and a large team of diligent employees ranging from engineers, welders, and pilots who work tirelessly to construct and test the craft. In honor of Women's History Month, we sat down with two women from the Shipyard to learn more about the work they do and what working at Textron Systems means to them.
Amy H., a Principal Test Conductor serves as the deck plate leader when the craft undergo testing before final delivery to the Navy. Her role involves all aspects of the craft focused on Command, Control, Communications, Computers, and Navigation and she is currently in the process of training to pilot the craft as well. A Navy veteran with 22 years of service, 13 of them served as a navigator onboard the legacy Landing Craft Air Cushion (LCAC), Amy is no stranger to the craft and its mission sets.
After working at Textron Systems for 13 months, Amy commented, "My absolute favorite part of working here is that I love what we provide to the warfighters, and I am proud to still be apart of that. The LCAC community is a small community, like a family, and I am excited to still be apart of that here at Textron Systems."
Working alongside Amy on the test team is Ashley B., a Senior Operations Engineer. Ashley began her career at Textron Systems five years ago as a quality engineer with land systems, transitioning to a quality engineer for sea systems for the past two years. Her work includes tracking the test procedures and milestones, and coordinating both Builder's Trials and Acceptance Trials for the craft.
Ashley's favorite memory from her time at Textron Systems is the first time she saw the SSC go on cushion and leave for delivery. "The first time I saw it go up, I couldn't believe that I had a small part in constructing this amazing piece of machinery. When I first saw it leave for delivery, I had a huge sense of pride and accomplishment."
It is thanks to devoted employees like Amy and Ashley that Textron Systems is able to continually develop advanced technology that pushes past possible. To learn more about the capabilities of the SSC and the work these ladies do at the Shipyard, visit: https://www.textronsystems.com/products/ship-shore-connector. Be sure to follow along on our social media as we continue to highlight the women of our Shipyard.