Group I Unmanned Aircraft System
As a leader in unmanned aircraft design for more than 30 years, Textron Systems continues to push the envelope in unmanned aircraft systems design and operations. Introduced in 2018, our Applied Technologies & Advanced Programs team unveiled its most recent group I Unmanned Aircraft Systems (UAS) test bed, the X5-55.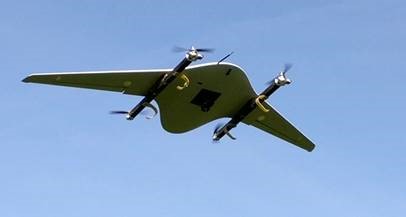 The system is designed to test a variety of flight and take-off functions, including vectored thrust capabilities, propulsion pods, rotor assemblies and landing gear. Weighing in at just under 55 lb, the system can carry up to 5 lb of payload, and is well positioned to meet today's standard for the Federal Aviation Administrations (FAA) Part 107 regulations. The X5-55 testing has expanded across other test beds of varying sizes, demonstrating scalability across UAS classes, helping drive improved agility and speed in challenging environments. A fluid design, with stringent testing by a proven defense company, our X5-55 is helping drive the most advanced UAS solutions for commercial and militarized solutions.
Flight

Vectored thrust flying-wing quadrotor

Power
Duration
Payload Types

Up to 5 lb: EO/IR (electro-optic/infrared), ISR (intelligence, surveillance and reconnaissance), full-motion video and others in a dedicated central bay