Aerosonde® Family of Products
Small Unmanned Aircraft System
Aerosonde
Designed for expeditionary land- and sea-based operations and equipped for simultaneous day/night full-motion video, communications relay, signals intelligence and a customer-selected payload in a single flight, Textron Systems' Aerosonde Small Unmanned Aircraft System (SUAS) delivers reliable, multi-mission performance in a class by itself. It is field-proven with more than 450,000 flight hours, including desert heat and Arctic cold.
We also offer turnkey, fee-for-service operations with our systems, operators and trainers. Our hybrid approach provides hands-on training for customer staff while we launch operations.
System Features:
Expeditionary land- or sea- based operations
Purpose-built Lycoming® EL-005 heavy-fuel for benchmark-setting reliability
Covert operation, with negligible visual and auditory signature
Multi-intelligence (multi-INT) payloads, i.e., electronic warfare (EW) and communications relay, in a single flight
Payload Capabilities Available:
Full-motion video (FMV) and day/night imaging
Voice communications relay
Ad-hoc networking (MANET)
Synthetic aperture radar (SAR)
EW
Signals intelligence (SIGINT)
Communications intelligence (COMINT)
3D mapping
Automatic identification systems (AIS)
Choose a Section
Aerosonde® Fixed Wing

Aerosonde® HQ
Aerosonde® Fixed Wing
Aerosonde® HQ
Aerosonde® Fixed Wing
Textron Systems' Aerosonde SUAS offers superior reliability and multi-mission performance in its class. With an easy-to-use launch and recovery trailer for constrained land and shipboard operations, our Aerosonde system is ready to go in any environment.
Commercial variant available in most countries.
Aerosonde® HQ
Combined with our Aerosonde system's proven performance and benchmark-setting reliability, the Aerosonde HQ brings unparalleled levels of mission capability and flexibility. Textron Systems' Aerosonde HQ is runway-independent using Hybrid Quadrotor technology to achieve vertical takeoff and landing (VTOL).
| | Aerosonde® Fixed Wing | Aerosonde® HQ |
| --- | --- | --- |
| Payload | Up to 20 lbs (9.1 kg) up to 200 W | 15 lbs |
| Max Wingspan | 12.0 ft (3.7 m) | 12.0 ft (3.7 m) |
| Ceiling | 15,000 ft (4,572 m) | 10,000 ft |
| Range | 140 km (75 nm) | 140 km (75 nm) |
| Max Takeoff Elevation | 8,000 ft (2,438 m) | 7,000 ft |
| UHF-, L-, S- and C-Band Capability | Yes | Yes |
| Weight | 80 lbs (36.4 kg) | 105 lb |
| Endurance | 14+ hr | 8 hrs (with 10 lb payload) |
| Automated Launch and Recovery | Single system with hydraulic pneumatic launcher and net recovery | Vertical-takeoff-and-landing (VTOL) capability |
| Airspeed | 45-65 kt | 45-65 kt |
| Transition Altitude | N/A | 50-150 ft above ground level |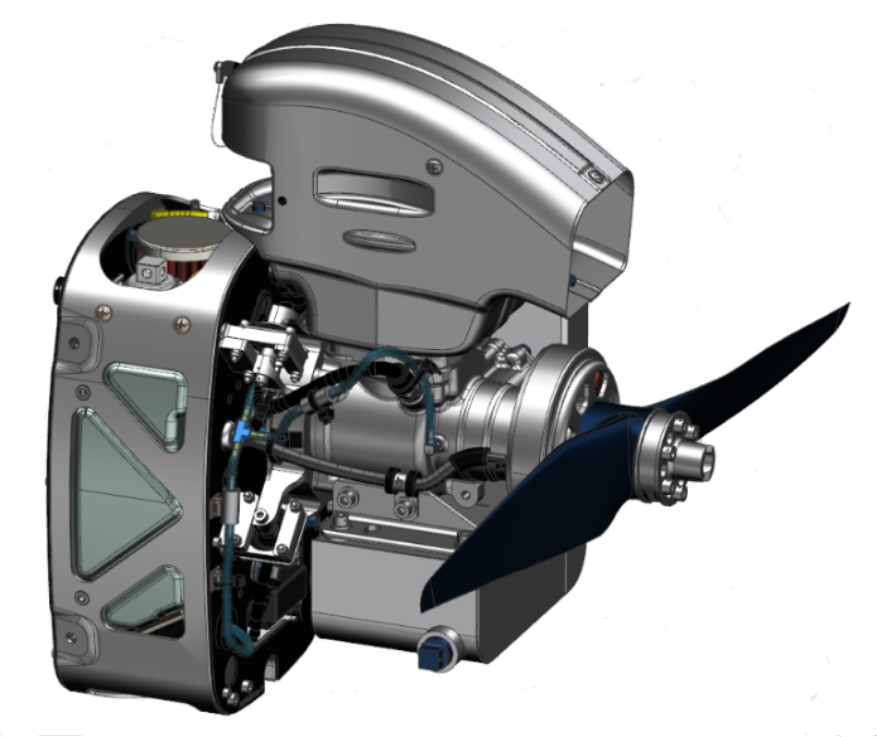 Lycoming's EL-005 is optimized for jet fuels and uses digital electronic controls to create a seamless flying experience.
Single-cylinder, air-cooled, direct-drive, spark-ignited two-stroke engine controlled by the Electronic Control Unit.
Produces 4 HP @ 5,500 RPM and has a dry weight of 13.8 lbs (6.25 kg).
Over 170,000 fielded flight hours of maturity on the Aerosonde SUAS.